Coronavirus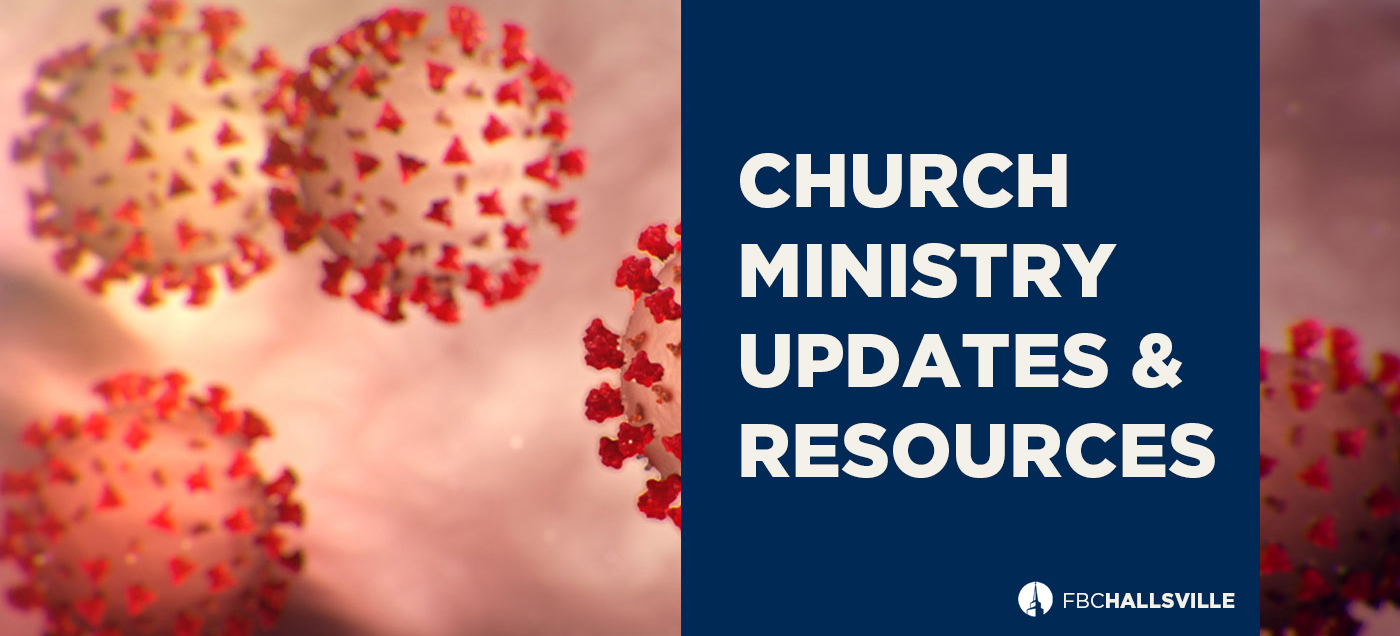 Please utilize this website to stay updated with church events and to receive ministry resources throughout the week. We will be continuing to look for new and creative ways to serve you, our church and community.
CHURCH-WiDE UPDATE
•Text "@fbchallsvi" to the number 81010 to receive church-wide text updates
---
During this time, don't stop being fully devoted followers of Jesus Christ. Here are ways you can continue to be fully devoted to God's word, community, worship, and prayer.
GOD'S WORD
Church-Wide Reading Plan
CHURCH-WIDE ADULT SUNDAY SCHOOL LESSON
Join us every Sunday at 9:45am by clicking this link below.
---
ZOOM
If you are interested in joining one of our small groups through Zoom email
---
FAMILY RESOURCES
---
WORSHIP
ONLINE SERVICE
Join us every Sunday for worship online at 10:45am by clicking the link below.
---
YOUTH ONLINE Message
Listen to Pastor Porter's messages each Wednesday that he brings to the youth.
---
GIVING
WAYS TO GIVE:
1) Online at fbchhallsville.org/give (automated recurring or one time giving).
2) By bringing your offering to our church office anytime Monday thru Thursday between 8:30a - 4:30p.
3) Mailing a check or having your bank mail a check.
PRAYER
Wed. Devo & Prayer Points
Listen to Pastor Mark's weekly Wed. Devo & Prayer Points by clicking the link(s) below.
---
PRAY 903
•Pray with us everyday at 9:03am for our area code and country. Join our prayer ministry by texting "@fbchpray" to the number 81010 to receive reminders and to be a part of our prayer chain for other prayer needs.
•Join Pastor Mark every Saturday on Facebook live at 9:03 am to pray for our area code and country.
---
PRAYER REQUESTS
Email or call (903)668-2294 for prayer.
---
"Everyone was filled with awe at the many wonders and signs performed by the apostles. All the believers were together and had everything in common. They sold property and possessions to give to anyone who had need. Every day they continued to meet together in the temple courts. They broke bread in their homes and ate together with glad and sincere hearts, praising God and enjoying the favor of all the people. And the Lord added to their number daily those who were being saved" (Acts 2:43-47).
GIVING TO ANYONE IN NEED
BENEVOLENCE & REQUESTS
During this Coronavirus situation, there may be church members facing financial hardships due to a loss in wages. Many hourly wage earners may have reduced hours and/or may have to stay home to take care of children.
Requests: If you or your family is facing a loss in income due to circumstances related to the virus situation and you are in need of financial assistance, please feel free to reach out for help. You may call the church office at (903)668-2294 to make your request or you may call the chairman of our benevolence team, Ann Newell, at (903) 235-7828. Please know that only a couple of people will need to know who is making the request and the information is kept confidential.
Donations: If you would like to make a donation above your normal tithe to aid those in need, please make your contribution and designate it to the "Church Member Cap Fund." You can make your donation online at this link: https://www.fbchallsville.org/give or mail or bring your check by the church office. Please give as you feel led to assist our church family members who are in need during this difficult time. For questions, please feel free to contact Ann Newell at (903)235-7828.
---
GROCERY RUNS & MEALS MADE
If you are concerned about going out in public, please allow us to help take care of your grocery shopping and/or errands for you. If you would like a meal prepared, we can cook a meal or pick up a to go order and deliver it. Please email call (903) 668-2294 to let us know. I know it might be difficult or feel uncomfortable to receive help, but please allow us the opportunity to serve you.
---
HALLSVILLE OUTREACH CENTER
If you would like to support our Hallsville Outreach Center in anyway to help those in need contact us at (903) 668-2294.
---
WORSHIP SERVICE DVDS FOR HOMEBOUND
If you or anyone you know would like to receive a DVD of our worship service each week please email
OTHER RESOURCES